The Global CyberBridges project has established a tradition of working with REU students since it began in 2006 either directly through REU supplement support or indirectly through opening a mentoring channel within Florida International University (FIU) or by leveraging other programmatic funding such as the PIRE award.
Now, we have two REU students working on distributed collaborative research teams of graduate students, each lead by an FIU GCB fellow graduate student. The two students, Jonatan Gonzalez and Roberto Pereira working on Financial Derivatives and PRIME projects respectively. The REU students presented their accomplishment in their project during Phase I to Heidi Alvarez, Julio Ibarra and Masoud Sadjadi on 12/10/2009.
1. Jonatan Gonzalez (View Presentation | Phase I Report)
2. Roberto Pereira (View Presentation | Phase I Report)
---
GCB -Calit2 Summer Workshop
The GCB international program is comprised of a series of geographically distributed projects each supported for a one year period with the goal of having the graduate students and their faculty advisors adopt longer term collaborative strategies. There is a technology transfer relationship between FIU and Calit2 at UCSD in order to realize the vision of team science at all levels of graduate and post-graduate education and research. Calit2 has worked with GCB to move collaborative and visualization tools developed by OptIPuter into a production mode. Now we are able to incorporate both a graduate student project and a summer workshop for GCB students at Calit2.

When: June 30th - July 2nd, 2009

Where: UCSD in La Jolla, California.

More Information on Calit2 Student Summer Workshop is available here.
---
The Chinese-American Network Symposium (CANS)
The Chinese-American Network Symposium (CANS) event in Indianapolis adopted the "One World One Dream" theme of the Beijing 2008 Olympic Games. CANS 2008 topics focused on Network Research & Next Generation, Advanced Infrastructure and Hybrid Networking; Measurement, Quality of Service, and End-to-End Performance, Support of High Performance Applications, e-Science Applications and International Collaborations, IPv6 Operations & Management. These themes were reflected in Javier Delgado (Florida International University) and Zhao Juan's (CNIC) presentation of "How Cyberinfrastructure is Helping Hurricane Mitigation."
For more information please visit the CANS website at http://www.indiana.edu/~uits/cans2008/index.html
---
2009 EduCause Learning Initiative Annual Meeting
January 20-22, 2009
The 2009 EduCause Learning Initiative Annual Meeting, Participation and Collaboration: Social Learning for the 21st Century, to explore processes and practices focused on social learning and student success. In the ELI tradition, the annual meeting is a setting for interactive, hands-on learning and networking, with a variety of presentations, discussions, and workshops. Sessions will fall into one of three interest areas: learners, learning principles and practices, and learning technologies. The Meeting will be held in the Caribe Royale Hotel and Conference Center, Orlando, Florida on January 20-22, 2009.
For more information go to http://net.educause.edu/ELI091

Download PowerPoint Presentations:
Masoud Sadjadi's Presentation
Heidi Alvarez's Presentation

---
Graduate Fellowships for Global Cyberbridges Informational
Workshops 2008
Workshop 1: Tuesday, Sept. 30th, from 11:00 to12 noon
FIU's Graham University Center, Room 305
Workshop 2: Wednesday, Oct. 29th, from 1:00 to 2:00 pm at
FIU's Graham University Center, Room 1215 (Conference Room)
Download the Flyer here
Download the PowerPoint Presentation here
---
Collaborators Meet at Xi'an and Beijing, August 2007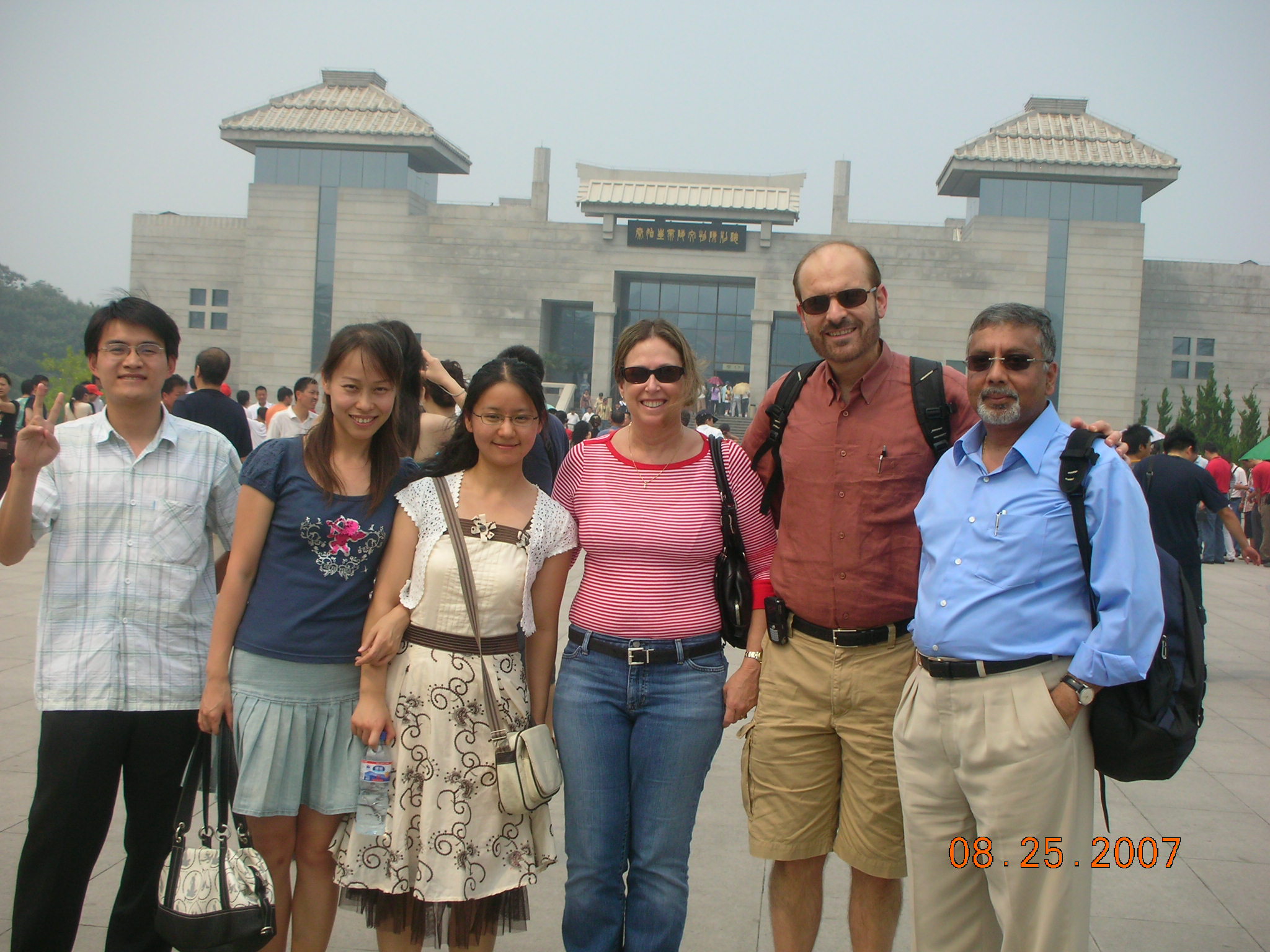 At Terra Cota Soldiers in Xi'an
From L-R: Yu Jianjun, Qian Fang, Xing Hang, Heidi Alvarez, Julio Ibarra and Kuldeep Kumar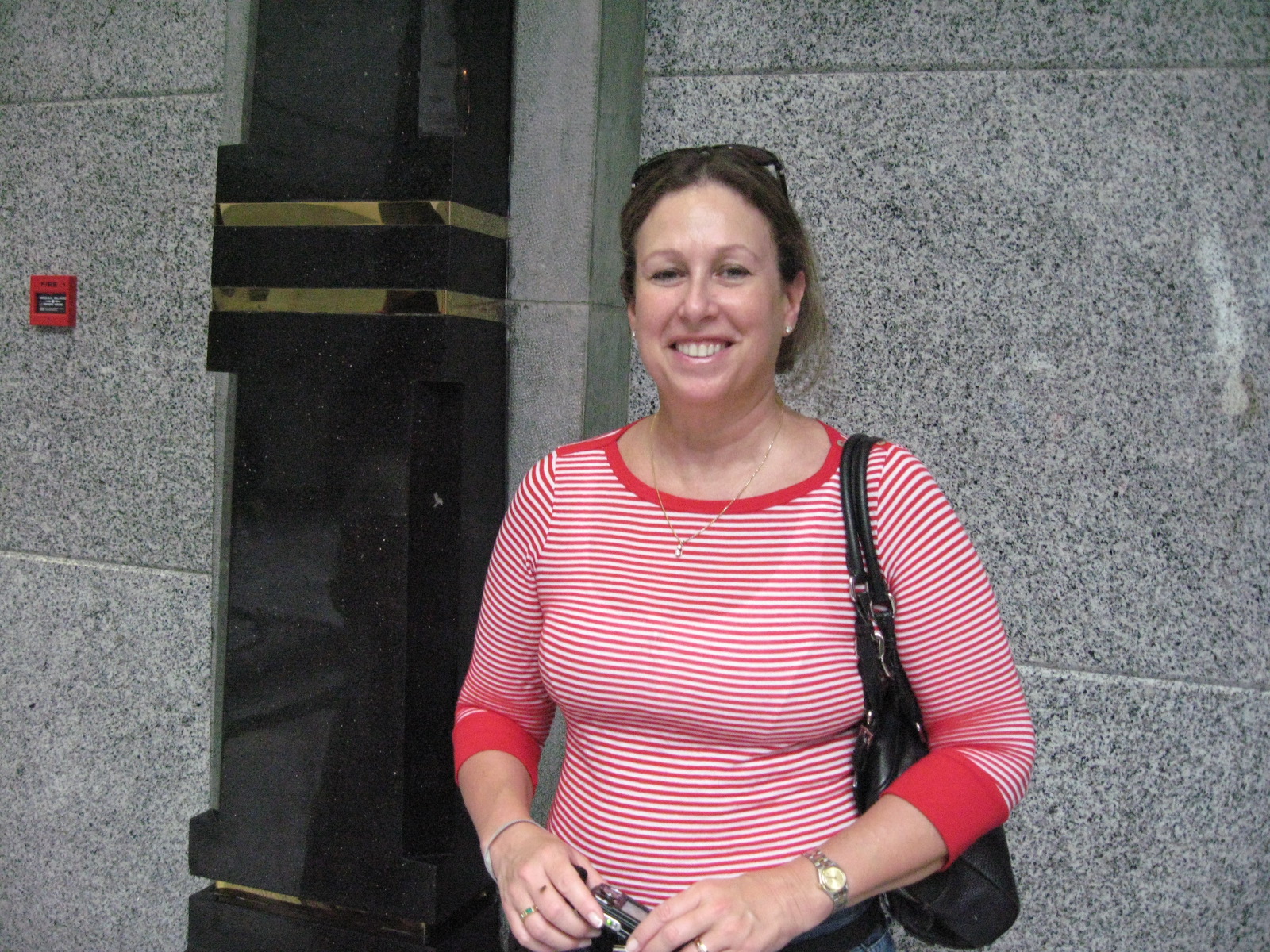 Heidi during her Xi'an visit
---
Super Computing 2007 (SC07) Conference

November 2007 (Reno, Nevada, USA)

The Conference Website
Images from the conference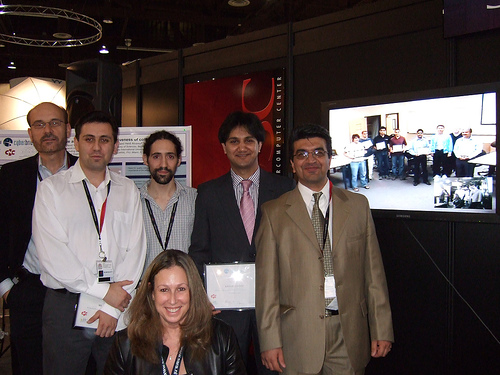 Participants of SC'07
From L-R: Julio Ibarra, Selim Kalyachi, David Villeges, Khaled Selim, Masoud Sadjadi
Center: Heidi Alvarez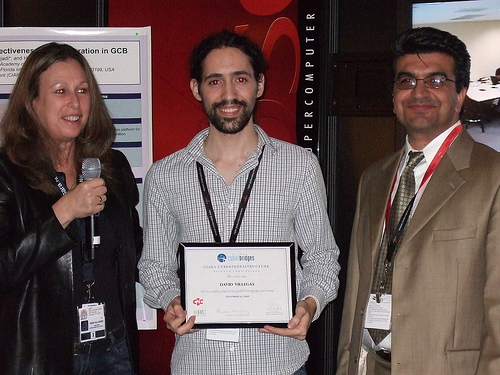 GCB Fellow Receiving Certificates
From L-R: Heidi Alvarez, David Villeges and Masoud Sadjadi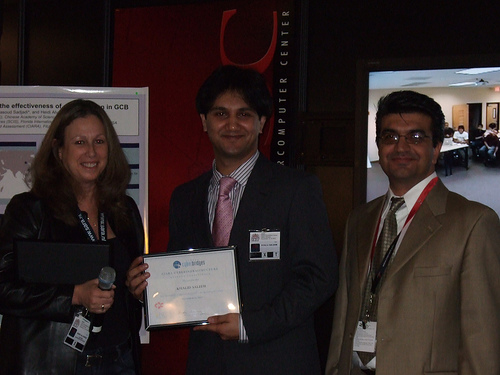 GCB Fellow Receiving Certificates
From L-R: Heidi Alvarez, Khaled Selim and Masoud Sadjadi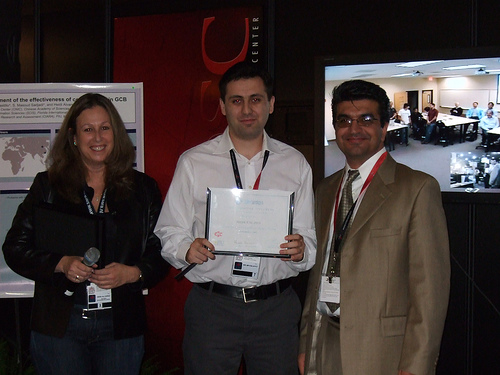 GCB Fellow Receiving Certificates
From L-R: Heidi Alvarez, Selim Kalyachi and Masoud Sadjadi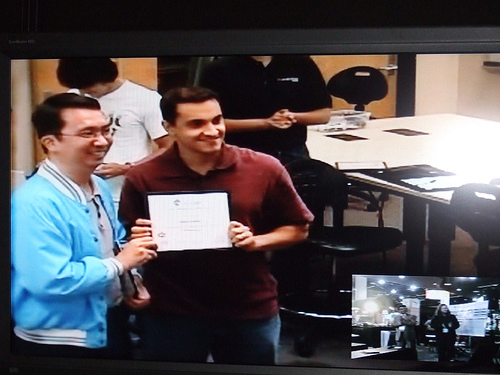 GCB Fellow Receiving Certificates
From L-R: Shu-Ching Chen and a GCB Fellow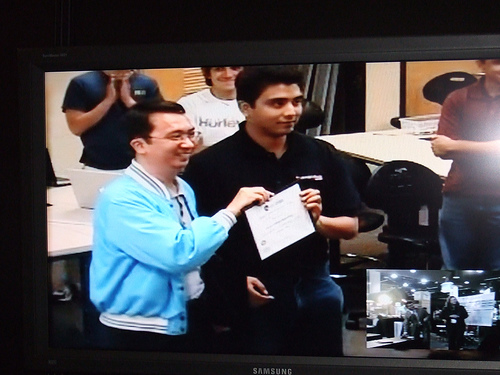 GCB Fellow Receiving Certificates
From L-R: Shu-Ching Chen and Juan Carlos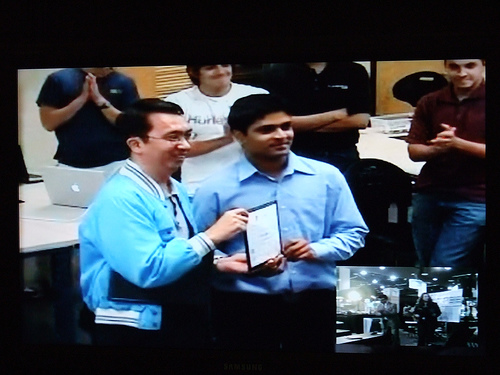 GCB Fellow Receiving Certificates
From L-R: Shu-Ching Chen and a GCB Fellow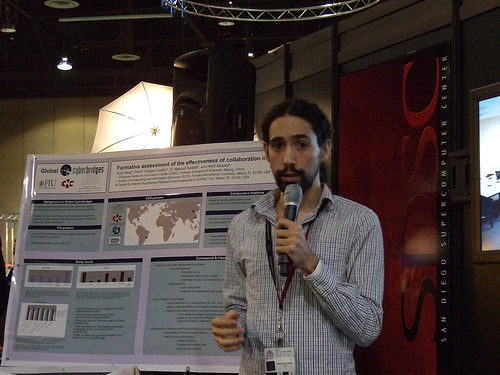 David Villegas Presenting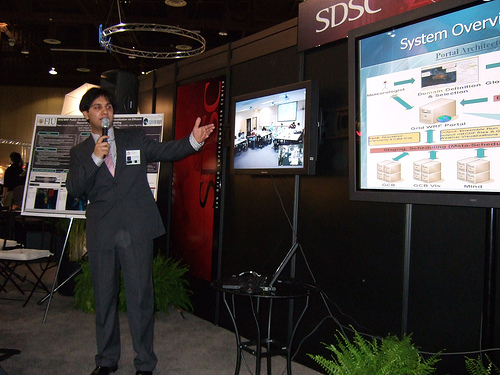 Khaled Selim Presenting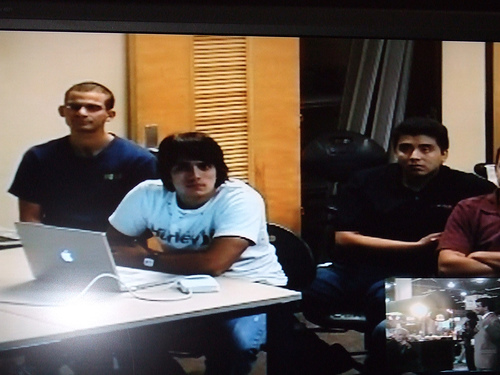 GCB Fellows Remotely Attending SC'07
From L-R: Javier Delgado, Javier Figuera and Juan Carlos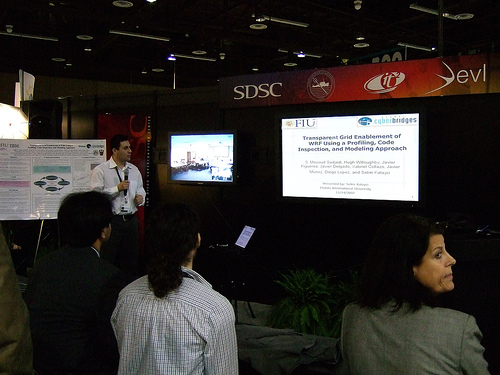 Selim Kalyachi Presenting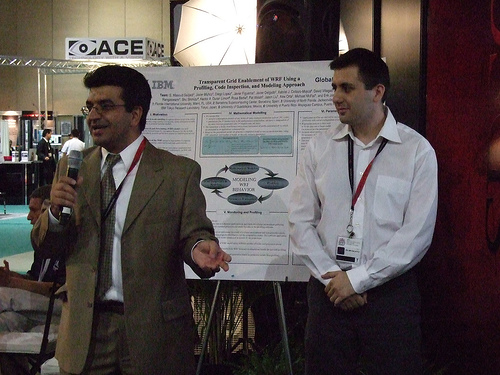 Masoud Sadjadi and Selim Kalyachi Taking Questions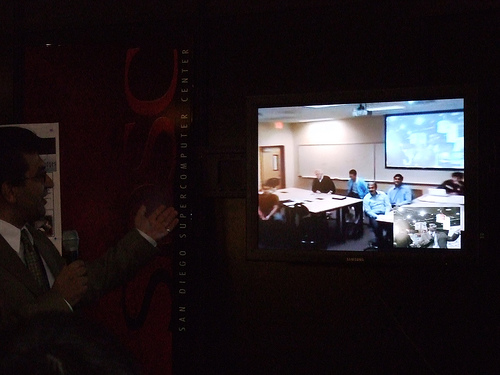 Masoud Sadjadi Explaining the Remote Participatio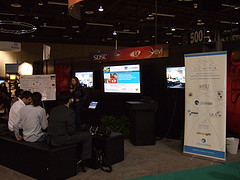 Presentation at SC'07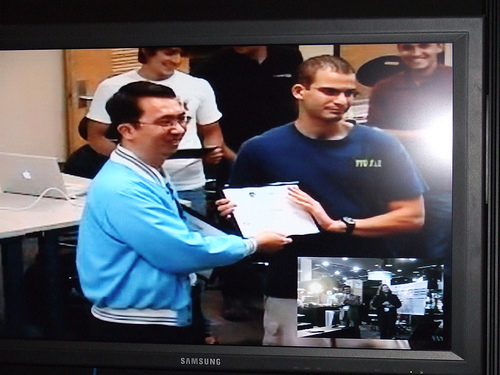 GCB Fellow Receiving Certificates
From L-R: Shu-Ching Chen and Javier Delgado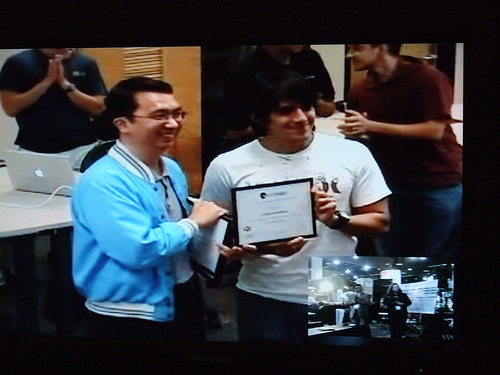 GCB Fellow Receiving Certificates
From L-R: Shu-Ching Chen and Javier Figuera
---
Graduate Fellowships for Global Cyberbridges Informational
Workshops 2007
Workshop 1: Monday, Nov. 26th, from 1:00 to 2:00 pm at
FIU's Green Library Building, Room 835
Workshop 2: Friday, Nov. 30th, from 1:00 to 2:00 pm at
FIU's Graham University Center, Room 305
Download the Acrobat PDF Flyer here
Download the PowerPoint Presentation here
---
International Conference on Information Society (i-Society)
2007
October, 2007 (Merrilville, Indiana, USA)